16.05.2018
ecoduna presents the revolution in microalgae production at Vitafoods Europe
Why Austria is a global green-technology hotspot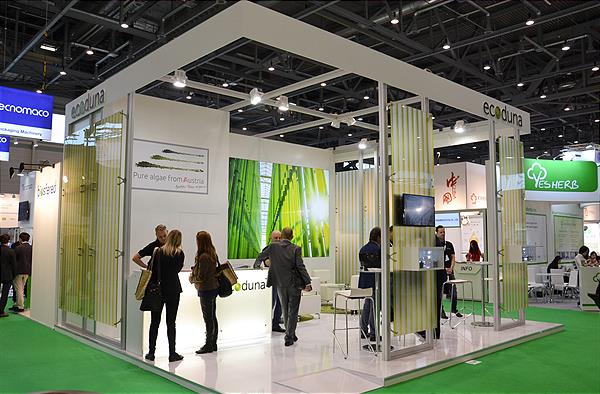 ecoduna fair booth at Vitafoods Europe 2018
Some considerable time ago, eparella GmbH, a subsidiary of ecoduna AG, took a pioneering step in producing microalgae on an industrial scale in Bruck/Leitha near Vienna. Reason enough for the global technology leader to showcase its technical innovations along with the products and market opportunities to interested trade visitors at Vitafoods Europe.

Further information and images can be found at http://ecoduna.com/?lang=en
Geneva, 15-17 May 2018
– It may sound surprising to many but Austria and algae are a good match. Some considerable time ago, eparella GmbH, a subsidiary of ecoduna AG, took a pioneering step in producing microalgae on an industrial scale in Bruck/Leitha near Vienna. Reason enough for the global technology leader to showcase its technical innovations along with the products and market opportunities to interested trade visitors at Vitafoods Europe.
Growth markets
Worldwide, the microalgae business is already generating billions of euros in sales. Owing to microalgae's extraordinary content of high-quality fatty acids (omega-3 and -6), natural colour and valuable proteins, the product's potential is nowhere near exhausted. "
ecoduna relies on fast-growing markets such as food and nutritional supplements, cosmetics and pharmaceuticals from microalgae
," explains Managing Director Johann Karmel. "
Omega-3 from fish oil is expected to be depleted in the near future for several reasons. The rapidly growing market for alternatives to the current fish-oil supply can be significantly served by the high-purity, vegan and GMO-free omega-3 oils that ecoduna produces. Other high-potential ingredients found in microalgae are pigments, antioxidants, carbohydrates, and proteins
," COO Silvia Fluch adds.
Competitive environment
"
So far, agricultural commodities, including from the microalgae sector, of open-production plants from Asia and America have been dominating the market. These 'open-pound quality' products, however, are often heavily contaminated due to their barely controllable growth conditions. As a result, Asian goods, which in many cases do not comply with the standards in force in Europe despite offering various quality certificates, are often unsuitable for further processing into food
," Fluch states.
Largely contamination-free system
The patented process of ecoduna allows the production of microalgae with a massively improved quality: the microalgae proliferate within a high-purity environment in a closed, largely contamination-free system – a crucial factor that is especially appreciated by demanding customers. "
This clearly sets ecoduna apart from its competitors
," says Karmel. Furthermore, the plant can produce various types of microalgae according to the respective customer requirements.
ecoduna technology
The inventors of the ecoduna technology have always sought to avoid sources of error of existing photobioreactor (PBR) systems. In turn, they have converted them into production advantages. After several years of continuous development work, a groundbreaking decision was made in 2015: switching to a new material – by replacing plastic with glass – signified a turning point for the company. This conversion allowed ecoduna to optimise the service life of the modules while at the same time increasing the system's productivity. This last step made ecoduna's technology ready and suitable for mass production.
Further information and images can be found at
http://ecoduna.com/?lang=en
Infotext
Die ecoduna Gruppe besteht aus der ecoduna AG (als Holding und Patente-Inhaberin) sowie der angeschlossenen 100%-igen Tochterfirma eparella GmbH. Die ecoduna AG ist ein Entwicklungsunternehmen das ein herausragendes biotechnisches Verfahren für die Produktion von Mikroalgen im industriellen Maßstab erfunden, zur Reife geführt und patentiert hat.
ecuduna ist weltweiter Technologieführer darin, den größten Hektarertrag nachhaltig, ressourcenschonend, effizient und absolut rückstandsfrei zu erzielen. Unser Team besteht aus Konstrukteuren, Biologen und Anlagentechnikern. In gemeinsamer Entwicklungsarbeit wurde die Photobioreaktor-Anlage entwickelt und in Bruck an der Leitha in einer Demonstrationsanlage zur Serienreife gebracht.
Weitere Informationen:
http://ecoduna.com/